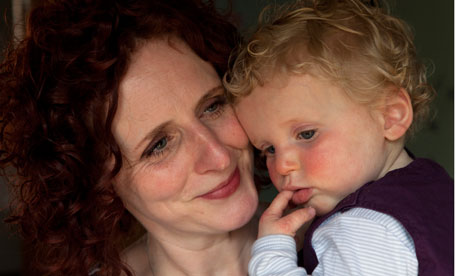 Maggie O'Farrell with her daughter Iris
(Photograph: Graham Turner for The Guardian)
Recent Costa-winner Maggie O'Farrell was born in Derry but if she considers herself Scottish, why are we trying to claim her? It's just another irritating national tic - trying to find the Irish angle to everything. President Obama's ancestors were from Moneygall in Offaly, dontchaknow...
Anyway, I enjoyed the profile of Maggie O'Farrell in the
Sunday Times
where she is reported to have said the wonderful line: 'Motherhood is a great editor.' With less time to write after the birth of her second child (empathise, empathise) she now 'devotes herself only to those ideas she believes are good.' Nice one, Mags. It's just what happens, isn't it? Everything gets madly condensed with kids around so you zone in on what matters in the writing.
When I complain that I haven't enough time to write, people keep saying to me, 'Stop wishing your kids' lives away'. I'm not wishing their lives away! I just want
more
time to
write
. There are 168 hours in a week. I can only afford childcare for 10 of those. So I have 10 small hours a week to write. The other 158 are pretty much devoted to my kids and sleep.
The odd thing is, the people who've said this to me are often writers and mothers too. But I'm on to them:
none
of them wrote when they had small children. So there's the difference. What irritates me is that they seem to resent that I am even trying to write with kids around me and, worse, that I'm succeeding. But worse again I have the audacity to want
more time
. Who do I think I am??!! The implication is that by wanting more writing hours I am somehow neglecting my children. Hmmm.
Most (all?) of my friends either have no kids or grown-up kids. I think I need a writer friend in the same boat as me, so we can bolster each other up when we feel a bit hard done by time-wise, and just for general writerly support.
But back to Maggie. She says that Cyril Connolly's dictum about the pram in the hall being the enemy of art (which I wrote about
here
) is 'offensive and misogynistic' and that some people take a gleeful pleasure in taunting female artists 'for the hubris of having children and attempting to have a creative life'. Here, here, Maggie.
In another
interview
when asked what she most enjoys about writing, she says, 'I love the solitude and the secrecy of it - as well as the escapism.' Ditto!!
Both Maggie and I suffered secondary infertility but went on to have little girls in 2009. And, like me, she is a vegetarian. Unlike me, she swims every day and doesn't drink alcohol or tea, but I think me and Maggie could be good pals. I wonder if she's in the market for a fellow mother-writer friend? Yes, probably not...