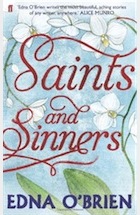 I have a review of
Saints and Sinners,
Edna O'Brien's newest short story collection
here
at the latest issue of
The Short Review
. It starts:
"
Edna O'Brien is in my "stable of giants", as E.B. White called his literary heroes; she is a national icon in Ireland, but one who is perhaps not as treasured as she might be. When poet Séamus Heaney turned 70 there was much fanfare; Edna O'Brien celebrated her 80th birthday in December 2010 and there was barely a whisper."
Other reviews in this issue include Valerie Trueblood's
Marry or Burn
and Polly Samson's
Perfect Lives
. As usual, the issue also includes reviews with many of the authors. Not Edna, though :(