I feel like someone on a merry-go-round but instead of candy-coloured horses and stripey poles there are writers. Oh look, there's Emma Donoghue. That's Colm Tóibín! I spy with my little eye Éilís Ní Dhuibhne, Brian Leyden, Belinda McKeon...
I am careening around to literary events and happenings like a mad woman. And I love it. But what I essentially need is a nanny to mind the kids while I swan off because I am starting to tire of taking the kids along. Even with a very supportive husband who entertains them while I do my thing or listen to others' thing, I always have to leave early/come home. And that is often annoying. Particularly when one of the kids throws up for the 60 mile journey home. Maybe she's sick of writers?
Anyway I went to hear
Emma Donoghue
at Galway Arts Festival this week and she was fantastic. If you get a chance to see her at the
Mountains to the Sea
Festival in September, take it. I've been a fan of hers for years and I am thrilled with her commercial success (to add to her critical success). Because of the former she says she now reads from the book (
Room
) for 10 mins then takes questions for 50 mins. And so she did on Wednesday evening. The reverse was the case when she was 'merely' a critical success.
Emma D is a brilliant, fluent and intelligent speaker about her own work. She had so many good and interesting things to say. She talked about
Room
being a very Irish book: 'a boy and his Mammy having fun under impoverished Irish circumstances.' She said the novel represented 'an extreme version of parenthood' and that writing historical fiction had been great practice for writing it: 'You have to create a whole world. It was easier to create the room than, say, the entirety of eighteenth century London.' She said it was the easiest book she has ever written in the sense that it came quickly to her - she drafted it in six months - and she sees it as 'a voice piece', a book of dialogue and very simple monologue.
She talked too about the challenges of being a mother-writer, something that I am always interested in hearing about, being in the same situation myself. Like me she just has a few hours a week while the kids are minded and so she uses the time wisely. 'The more urgent your need for that time, the better you will use it,' she said (paraphrasing) and I totally agree with that.
My friend Karen and I celebrated rather exuberantly after Emma's reading so I was a bit fragile yesterday heading to the John McGahern Summer School in Carrick-on-Shannon, for the launch of the
Yearbook
in which I have an essay on McGahern's novel
Amongst Women
. The
Yearbook
is a gorgeously posh production: A4 size, navy linen covers, heavy paper, beautifully laid out. I was welcomed by editor John Kenny of NUI Galway, who has been very good to me over the past few years, giving me different bits of work to do, supervising his CW students' novel writing etc.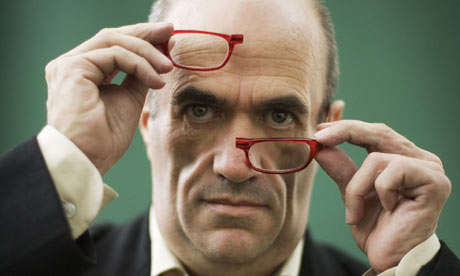 Colm Tóibín - pic from Guardian website
Before the launch, Colm Tóibín delivered a key-note speech on memory, preceded by speeches from John Kenny (the school is guaranteed at least another five years of life - yay!) and Nollaig Mac Congaíl (an amusing talk about the Irish language & McGahern).
Colm Tóibín gave an amazing, learned, erudite speech on the parallels between McGahern's use of real life instances in both fiction and memoir. Colm posited that, in Irish writing, only McGahern and Aidan Higgins had used events in fiction first and memoir later. He specifically drew on the deaths of both authors' mothers and the language used in their fictional and factual acounts. Colm said that writers are uneasy about their relationship between real life and fiction: 'Fiction is what actually happened to us, tarted up a bit.' He also said 'a novel is a created truth' and that 'writers use memory and put it into fiction like a ship putting its anchor down.' He brought in Borges, Cervantes and Hardy and all sorts of other parallels and examples, and wove it all together with ease. The speech must have taken him months to write. Impressive stuff. He is
always
impressive.
Afterwards there was wine and abundant food (I was still too wobbly to indulge) and the Yearbook was officially launched. I had a nice time chatting to various writers until the kids let me know it was time to go. Before we left, Colm Tóibín demonstrated his magical, magnetic glasses to Finn and Juno, and he also showed them his croc-like red rubber heels on his shoes. I don't know what the heels were all about, tbh :)
All in all a great few days of literary activity and I have plenty of food for thought and, also,
hope
which is what these events often give me.